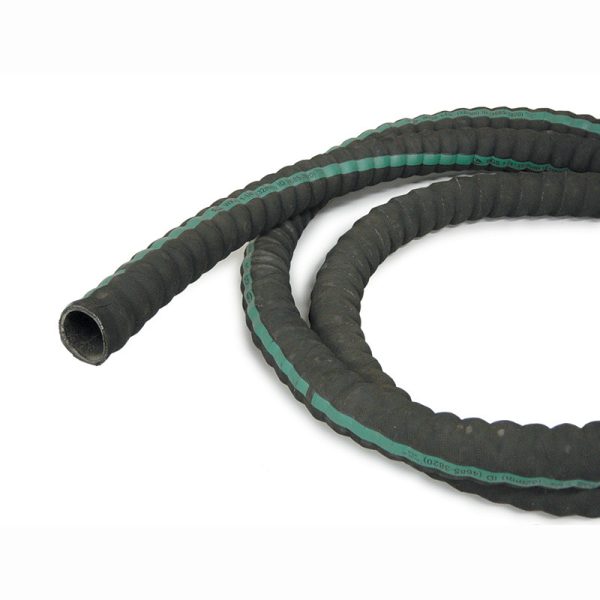 Wire Inserted Greenstripe® Coolant Hose
Provides the ability to replace many sizes of tailor-made curved hoses. Results In maximum coverage with minimum inventory.
Heavy-duty fabric reinforcement with helical carbon steel wire.
Bends easily to make curved connections.
Cuts easily with knife and wire cutters to reduce installation time.
Exceeds SAE 20R2 Type EC (Class D2 Tube and cover) except in vacuum applications.
Engineered to resist electrochemical degradation – the leading cause of hose failure.
Resists water permeation. Do not use for oil, hydraulic or fuel transfer.
Temperature rating: –40°C to +125°C
CAUTION: Do not use for oil, or fuel transfer applications.
Description
Wire Inserted Green Stripe

Part Number
ID
Working Pressure
Vacuum
Minimum Bend Radius
5 foot
10 foot
Inches
mm
psi
Inches of HG
Inches
24916
28316
1
25.4
100
25
2
24918
—
1 1/8
30
100
25
2 1/2
24920
28320
1 1/4
32
100
25
2 1/2
24922
—
1 3/8
34
85
25
3
24924
28324
1 1/2
38
85
20
3 1/2
24926
28326
1 5/8
40
75
20
3 1/2

000

24928
28328
1 3/4
44
75
20
4
24930
28330
1 7/8
45
60
20
4 1/2
24932
28332
2
51
60
20
4 1/2
24934
—
2 1/8
54
55
20
5 1/2
24936
28336
2 1/4
57
55
20
5 1/2
24938
—
2 3/8
60
50
20
6 1/2
24940
28340
2 1/8
63
50
20
6 1/2
24942
—
2 5/8
66
40
15
7 1/2
24944
28344
2 3/4
70
40
15
7 1/2
24946
—
2 7/8
71
40
15
9
24948
28348
3
76
40
15
9
24956
28356
3 1/2
89
35
15
12
24964
—
4
102
30
10
20
24980
—
5
127
15
5
24
24996
—
6
152
15
5
30