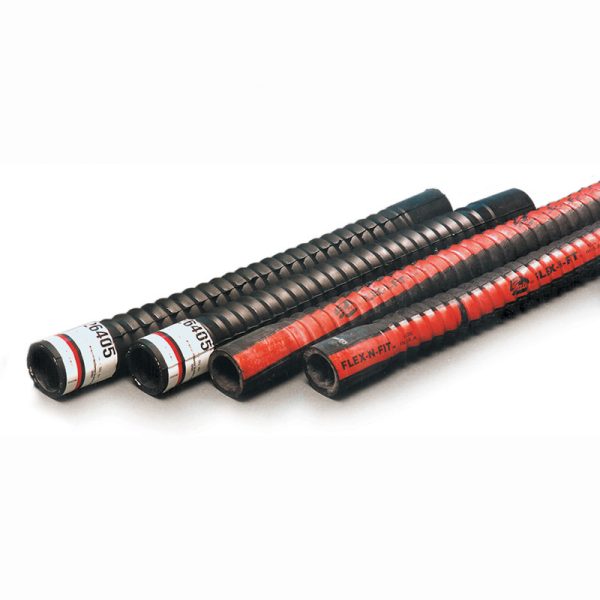 Vulcoflex® II Coolant Hose
Redesigned Gates Vulco-Flex® II will bend in almost any direction. It easily replicates the angles and planes of a wide variety of expensive original equipment coolant hose, for quick, easy, error-proof replacement.
Improved sealing surface for greater leak resistance.
Increased flexibility for easier installation.
Internal wire spring resists hose collapse.
Heat and ozone resistant cover.
Better appearance.
Rated for SAE 20R5 Class D-2 performance.
High temperature rating up to +125°C.
NOTE: Gates recommends replacing clamps each time a new coolant hose is installed.
CAUTION: Do not use for fuel or oil transfer applications.
Description
Vulco-Flex II Coolant Hose

Part Number
ID
Length
Inches / mm
mm
Inches
25150
1 1/8 (29mm)
305
12
25152
1 1/8 (29mm)
381
15
25154
1 1/8 (29mm)
457
18
25157
1 1/8 (29mm)
584
23
25180
1 1/8 (29mm) – 11/4 (32mm)
483
19
25249
1 1/4 (32mm)
190
7.4
25250
1 1/4 (32mm)
240
9.4
25251
1 1/4 (32mm)
330
13
25252
1 1/4 (32mm)
381
15
25253
1 1/4 (32mm)
432
17
25254
1 1/4 (32mm)
470
18.5
25255
1 1/4 (32mm)
508
20
25257
1 1/4 (32mm)
584
23
25260
1 1/4 (32mm)
673
26.5
25262
1 1/4 (32mm)
762
30
25265
1 1/4 (32mm)
889
35
25269
1 1/4 (32mm)
1041
41
25284
1 1/4 (32mm) – 1 3/8 (35mm)
660
26
25300
1 1/4(32mm) – 1 1/2 (38mm)
305
12
25302
1 1/4(32mm) – 1 1/2 (38mm)
394
15.5
25305
1 1/4(32mm) – 1 1/2 (38mm)
495
19.5
25307
1 1/4(32mm) – 1 1/2 (38mm)
584
23
25309
1 1/4(32mm) – 1 1/2 (38mm)
660
26
25311
1 1/4(32mm) – 1 1/2 (38mm)
737
29
25321
1 1/4(32mm) – 1 1/2 (38mm)
1118
44

Vulco-Flex II Coolant Hose

Part Number
ID
Length
Inches / mm
mm
Inches
25384
1 3/8 (35mm)
635
25
25409
1 3/8 (35mm) – 1 1/2 (38mm)
660
26
25428
1 1/2 (38mm) – 1 5/8 (41mm)
432
17
25472
1 1/2 (38mm)
205
8
25473
1 1/2 (38mm)
265
10.5
25474
1 1/2 (38mm)
305
12
25476
1 1/2 (38mm)
356
14
25477
1 1/2 (38mm)
294
11.6
25478
1 1/2 (38mm)
394
15.5
25480
1 1/2 (38mm)
508
20
25482
1 1/2 (38mm)
559
22
25484
1 1/2 (38mm)
635
25
25487
1 1/2 (38mm)
762
30
25490
1 1/2 (38mm)
889
35
25499
1 1/2 (38mm)
1219
48
25526
1 1/2 (38mm) – 1 3/4 (44mm)
335
13.2
25527
1 1/2 (38mm) – 1 3/4 (44mm)
381
15
25528
1 1/2 (38mm) – 1 3/4 (44mm)
419
16.5
25530
1 1/2 (38mm) – 1 3/4 (44mm)
508
20
25532
1 1/2 (38mm) – 1 3/4 (44mm)
559
22
25535
1 1/2 (38mm) – 1 3/4 (44mm)
686
27
25582
1 1/2 (38mm) – 2 (51mm)
559
22
255804*
1 1/2 (38mm)
505
19.7
25806*
1 1/2 (38mm)
589
23.2
255808*
1 1/2 (38mm)
650
25.5