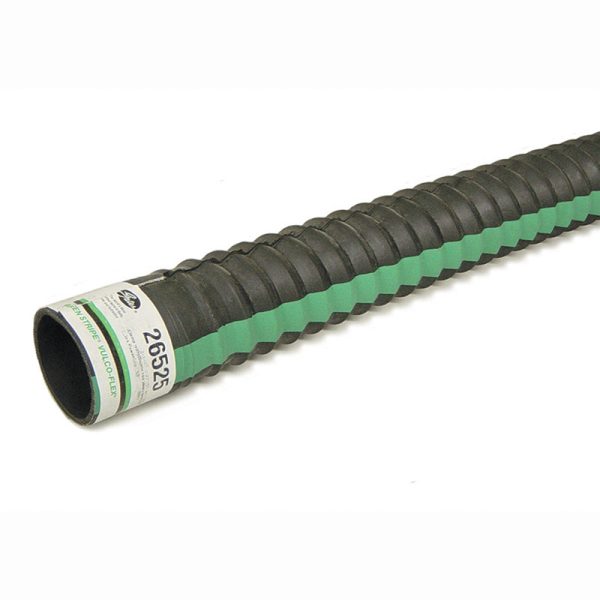 Vulcoflex® Greenstripe® Coolant Hose
Heavy-duty flexible hose designed to replace straight or curved coolant hoses. The benefit is maximum coverage with minimum inventory. Hose inside diameter remains constant from end to end.
Excellent flexibility, yet collapse and kink resistant.
Extra strength fabric reinforcement with helical steel wire spiral moulded between tube and cover.
Heat resistant construction throughout.
EPDM tube and neoprene cover for extended service life.
Performs to SAE 20R5 Type EC Class D-2 specifications.
Engineered to resist electrochemical degradation – the leading cause of hose failure
Temperature rating: –40°C to +125°C
CAUTION: Do not use for fuel or oil transfer applications.
See below lists size range by hose internal diameter.
Description
Vulco-Flex Green Stripe Coolant Hose

Part Number
Inside Diameter
Length
Inches / mm
Inches
mm
26501
1 3/4 (44mm)
13 1/2
343
26502
1 3/4 (44mm)
16 1/2
419
26601
1 3/4 (44mm)
6
152
26602
1 3/4 (44mm)
8.5
216
26603
1 3/4 (44mm)
11
279
26611
1 3/4 (44mm)
19
483
26612
1 3/4 (44mm)
23.5
597
26503
1 3/4 (44mm) – 2 (51mm)
10
254
26504
1 3/4 (44mm) – 2 (51mm)
16 1/2
419
26505
1 3/4 (44mm) – 2 (51mm)
19
483
26506
1 3/4 (44mm) – 2 (51mm)
23 1/2
597
26507
2 (51mm)
9 1/2
241
26508
2 (51mm)
12 1/4
311
26509
2 (51mm)
14 1/2
368
26510
12 (51mm)
17
432
26511
2 (51mm)
20
508
26512
2 (51mm)
24
610
26513
2 (51mm)
33
838
26514
2 (51mm) – 2 1/4 (57mm)
8 1/2
216
26515
2 (51mm) – 2 1/4 (57mm)
15
381
26516
2 (51mm) – 2 1/4 (57mm)
17 1/2
445
26517
2 (51mm) – 2 1/4 (57mm)
25
635
26518
2 (51mm) – 2 1/4 (57mm)
20
508
26519
2 1/4 (57mm)
9
229
26520
2 1/4 (57mm)
11
279
26521
2 1/4 (57mm)
14
356
26522
2 1/4 (57mm)
17
432
26523
2 1/4 (57mm)
19
483
26524
2 1/4 (57mm)
24
610
26525
2 1/4 (57mm)
27
686
26526
2 1/4 (57mm) – 2 1/2 (64mm)
18
457
26527
2 1/4 (57mm) – 2 1/2 (64mm)
21
533
26528
2 1/4 (57mm) – 2 1/2 (64mm)
25
635
26529
2 1/2 (64mm)
11
279
26530
2 1/2 (64mm)
14
356
26531
2 1/2 (64mm)
16
406
26532
2 1/2 (64mm)
24
610
26533
2 1/2 (64mm)
28
711
265534
2 3/4 (70mm)
7
178
26535
2 3/4 (70mm)
14
356
26536
2 3/4 (70mm)
18
457
265537
2 3/4 (70mm)
32
813
265538
3 (76mm)
37
940