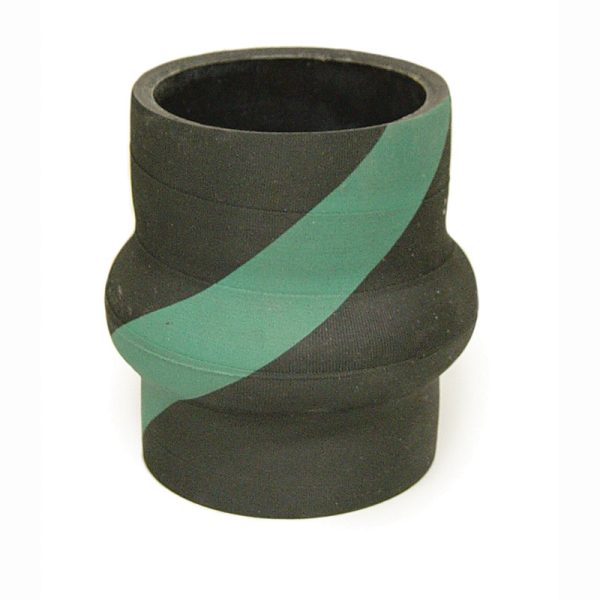 Vibraflex® Greenstripe® Coolant Hose
For heavy-duty applications requiring short length hose that must absorb vibration and/or fitting misalignment. High flexibility reduces installation time and provides lower cost-per-mile operation.
Oil and heat resistant nitrile tube.
Oil, abrasion and heat resistant neoprene cover.
Exceeds SAE J20 (Class B Tube and Class C Cover).
Two-ply fabric reinforced.
Temperature rating: -40° to +100°C
CAUTION: Do not use for gasoline or diesel transfer applications.
Description
Vibraflex Greenstrip Hose

Part No
ID x Length
Working Pressure
Inches
psi
23505
1 1/4 X 4
70
23511
1 3/8 X 5
60
23515
1 1/2 X 5
60
23520
1 3/4 X 5
55
23531
2 X 3 1/2
50
23533
2 X 5
50
23547
2 1/4 X 4 1/2
40
23557
2 3/8 X 5
35
23559
2 3/8 X 6 1/4
35
23562
2 1/2 X 4 1/2
35
23550
2 1/2 X 6
35
23566
2 3/4 X 3 1/4
30
23567
2 3/4 X 4 1/2
30
23568
2 3/4 X 5 3/8
30
23572
3 X 4
25
23575
3 X 7
25
23585
3 1/2 X 5 1/2
25