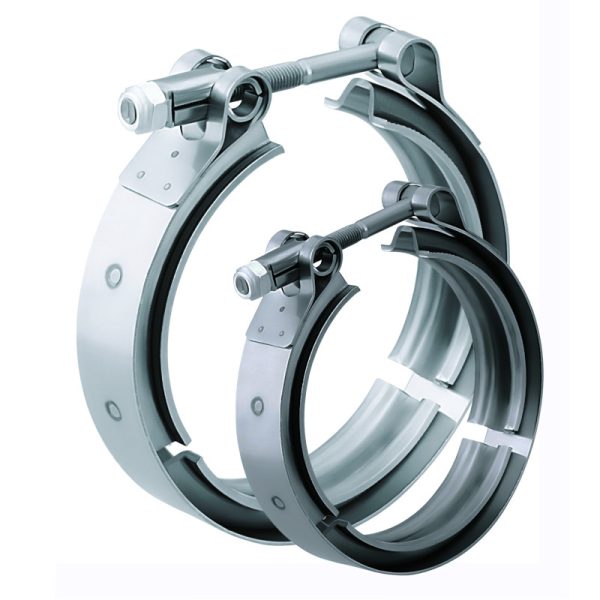 V-Band Clamps (Spareco Exhaust Products)
Please Note:
V-Band Clamps are made of Type 321 Stainless Steel.
The function of a V-Band clamp is to connect the manifold or turbocharger to the exhaust system.
These type of clamps are designed to cater to the majority of engine applications and are available in a variety of sizes.
Description
V-Band Clamps (Spareco Exhaust Products)

TUBE OD
PART NUMBER
TYPICAL APPLICATION
A
B
C
D
E
F
MAX FLANGE OD
2.50″
90603K
DD 8.2T 8920206
40°
2.88
0.21
0.75
0.28
0.05
2.75
73mm
5mm
19mm
7mm
1mm
70mm
2.75″
89571K
Cummins B
40°
3.22
0.26
0.85
0.14
0.05
3.13
82mm
7mm
22mm
4mm
1mm
80mm
3.00″
89530K
Ford D9HT-51210-DA
40°
3.87
0.43
0.88
0.31
0.08
3.75
99mm
11mm
22mm
8mm
2mm
95mm
3.00″
89505K
DD 6V71
40
3.82
0.21
0.88
0.28
0.08
3.7
97mm
5mm
22mm
7mm
2mm
94mm
3.00″
89500K
Cummins V903 Ford 370 & 429
40°
3.88
0.4
0.88
0.28
0.05
3.76
E5HZ-5A321-B
99mm
10mm
22mm
7mm
1mm
96mm
3.13″
89511K
OE Mufler
40°
3.96
0.21
0.88
0.28
0.08
3.84
101mm
5mm
22mm
7mm
2mm
98mm
3.50″
89573K
Cummins C
40°
4.12
0.26
0.67
0.14
0.05
4.03
105mm
7mm
17mm
4mm
1mm
102mm
3.50″
89531K
Cat 3208T Ford 6.6, 7.8
40°
4.19
0.4
0.88
0.28
0.05
4.07
E2HT5A212AA
106mm
10mm
22mm
7mm
1mm
103mm
3.50″
89506K
DD8V71
40°
4.25
0.4
0.88
0.28
0.05
4.16
108mm
10mm
22mm
7mm
1mm
106mm
3.50″
89501K
Cummins VT555
40°
4.25
0.4
0.88
0.28
0.05
4.16
108mm
10mm
22mm
7mm
1mm
106mm
3.50″
89512K
IH DT466 & Connector Ends
40°
4.31
0.21
0.88
0.28
0.08
4.19
109mm
5mm
22mm
7mm
2mm
106mm
4.00″
89508K
DD 8.2N
40°
4.06
0.24
0.88
0.29
0.08
3.94
103mm
6mm
22mm
7mm
2mm
100mm
4.00″
89520K
Cat 3126T Cat 3176T
40°
4.75
0.4
1
0.28
0.05
4.63
Cummins L10 Cummins M11
121mm
10mm
25mm
7mm
1mm
118mm
4.00″
89509K
DD 8.2T
40°
4.75
0.16
0.88
0.31
0.08
4.63
GM 2295978
121mm
4mm
22mm
8mm
2mm
118mm
4.00″
89532K
Mack 11ME29
40°
4.94
0.18
0.75
0.28
0.06
4.82
126mm
5mm
19mm
7mm
2mm
122mm
4.00″
89502K
Switzer 4LDE, 4LE, 4LH, 4LS
40°
4.5
0.26
0.75
0.14
0.05
4.41
114mm
7mm
19mm
4mm
1mm
112mm
4.00″
89507K
DD 6-71
40°
4.91
0.29
1.13
0.3
0.09
4.79
125mm
7mm
29mm
8mm
2mm
122mm
4.00″
89533K
Mack 48RU2341
40°
4.61
0.16
0.75
0.22
0.05
4.49
117mm
4mm
19mm
6mm
1mm
114mm
4.00″
89513K
Connector Ends
40°
4.81
0.21
0.88
0.28
0.08
4.69
122mm
5mm
22mm
7mm
2mm
119mm
4.88″
89510K
DD 8V71T
40°
5.25
0.26
0.75
0.14
0.05
5.16
6V92T
133mm
7mm
19mm
4mm
1mm
131mm
8V92T
5.00″
89503K
Cummins T50 Turbo, M-11
40°
5.88
0.4
0.88
0.28
0.05
5.79
149mm
10mm
22mm
7mm
1mm
147mm
5.00″
89514K
Connector Ends
40°
5.81
0.21
0.88
0.28
0.08
5.69
148mm
5mm
22mm
7mm
2mm
145mm
5.00″
90530K
DD 8V71 Special Manifold
40°
5.87
0.37
0.88
0.3
0.05
5.75
149mm
9mm
22mm
8mm
1mm
146mm
5.25″
89504K
T50 Housing
40°
6.76
1.67
1.88
0.28
0.06
6.64
172mm
42mm
48mm
7mm
1.5mm
169mm