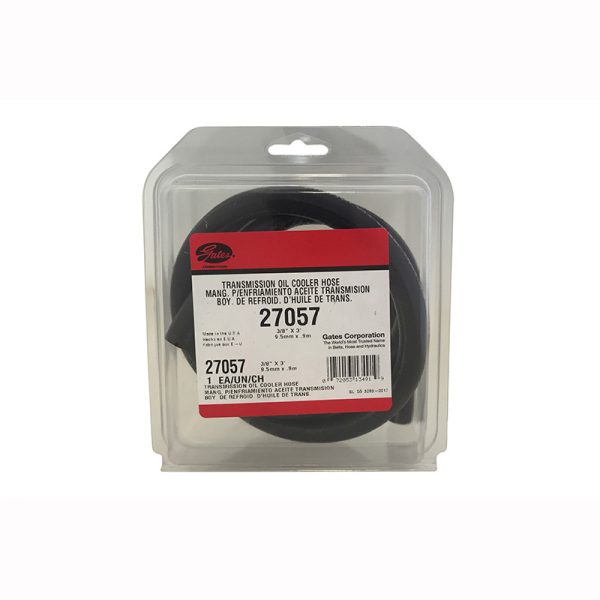 Transmission Cooler Hose
Provides a safe, heat and oil resistant connecting line between oil cooler and transmission.
One fibre braid reinforcement over an oil resistant NBR rubber tube.
Oil and abrasion resistant black neoprene cover.
 Meets or exceeds SAE 100R6 requirements.
Can be stacked on shelf or hung on pegboard.
Easy-to-follow instructions in each package.
Handy hose diameter indicator on package.
Package is recyclable.
Maximum temperature rating: +135°C constant, +150°C intermittent
Packaging: 3 ft (0.91M) lengths in retail package 25ft (7.6m) or 50 ft (15.2M) lengths individually cartoned.
Description
Transmission Cooler Oil Hose

Part Number
ID
OD
Length
Working Pressure
(psi)
Burst Press.
(psi)
Inches
mm
Feet
27056
5/16
14.2
3
400
1600
27058
5/16
14.2
25
400
1600
27060
5/16
14.2
50
400
1600
27057
3/8
15.9
3
400
1600
27059
3/8
15.9
25
400
1600
27061
3/8
15.9
50
400
1600
27065
1/2
19.8
3
400
1600
27066
1/2
19.8
25
400
1600
27067
1/2
19.8
50
400
1600