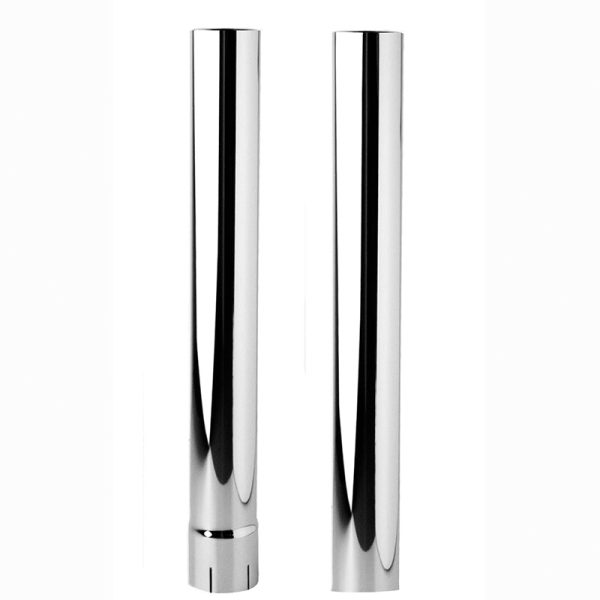 Straight Stacks
Available as a Plain End or Extended and Notched.
Straight stacks give the impression of a quieter vehicle as the noise is directed away from the group.
Requires a raincoat to prevent rain from entering the exhaust system which if not fitted, will eventually result in rust being formed in the muffler.
Also available in Aluminised material against special order. Minimum order quantities may apply.
Description
Exhaust Stacks – Chrome Plated (Straight)

DIMENSIONAL DATA
Product Code – Plain End
Product Code – Expanded and Notched
51mm (2″) X
600mm (24″)
0123S0522P
0123S0522X
900mm (36″)
0123S0523P
0123S0523X
1200mm (47″)
0123S0524P
0123S0524X
1500mm (59″)
0123S0525P
0123S0525X
1800mm (71″)
0123S0526P
0123S0526X
57mm (2 1/4″) X
600mm (24″)
0123S0572P
0123S0572X
900mm (36″)
0123S0573P
0123S0573X
1200mm (47″)
0123S0574P
0123S0574X
1500mm (59″)
0123S0575P
0123S0575X
1800mm (71″)
0123S0576P
0123S0576X
63mm (2 1/2″) X
600mm (24″)
0123S0632P
0123S0632X
900mm (36″)
0123S0633P
0123S0633X
1200mm (47″)
0123S0634P
0123S0634X
1500mm (59″)
0123S0635P
0123S0635X
1800mm (71″)
0123S0636P
0123S0636X
70mm (2 3/4″) X
600mm (24″)
0123S0702P
0123S0702X
900mm (36″)
0123S0703P
0123S0703X
1200mm (47″)
0123S0704P
0123S0704X
1500mm (59″)
0123S0705P
0123S0705X
1800mm (71″)
0123S0706P
0123S0706X
76mm (3″) X
600mm (24″)
89005C
0123S0762X
900mm (36″)
89006C
89020C
1200mm (47″)
89007C
89021C
1500mm (59″)
89203C
89213C
1800mm (71″)
0123S0766P
0123S0766X
89mm (3 1/2″) X
600mm (24″)
89010C
89022C
900mm (36″)
89011C
89023C
1200mm (47″)
89012C
89024C
1500mm (59″)
89204C
89215C
1800mm (71″)
0123S0896P
0123S0896X
102mm (4″) X
600mm (24″)
89013C
89025C
900mm (36″)
89014C
89026C
1200mm (47″)
89015C
89027C
1500mm (59″)
89205C
89217C
1800mm (71″)
89916C
89919C
114mm (4 1/2″) X
600mm (24″)
0123S1142P
0123S1142X
900mm (36″)
0123S1143P
0123S1143X
1200mm (47″)
0123S1144P
0123S1144X
1500mm (59″)
0123S1145P
0123S1145X
1800mm (71″)
0123S1146P
0123S1146X
127mm (5″) X
600mm (24″)
89016C
89028C
900mm (36″)
89017C
89029C
1200mm (47″)
89018C
89030C
1500mm (59″)
89019C
89031C
1800mm (71″)
89918C
89920C
152mm (6″) X
600mm (24″)
0123S1522P
0123S1522X
900mm (36″)
0123S1523P
0123S1523X
1200mm (47″)
0123S1524P
0123S1524X
1500mm (59″)
0123S1525P
0123S1525X
1800mm (71″)
0123S1526P
0123S1526X

Chrome Plated Exhaust Stacks Straight – Special Length

DIMENSIONAL DATA
Product Code – Plain End
Product Code – Expanded and Notched
127mm (5″) X
1371mm (54″)
90605C
90609C
1625mm (64″)
90606C
–
2134mm (84″)
90607C
90610C
2438mm (96″)
90608C
90611C
2743mm (108″)
–
90612C
3048mm (120″)
–
90613C