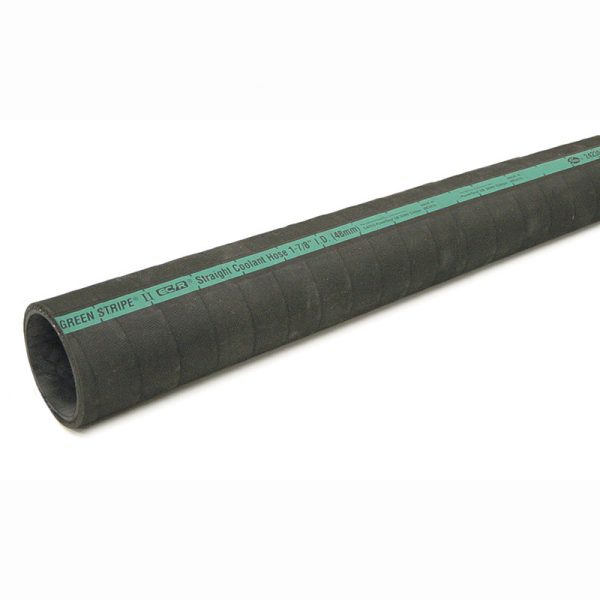 Straight 2-Ply Greenstripe® Coolant Hose
Straight hose designed for demanding heavy-duty coolant/air applications.
Two-ply bias fabric construction to maximize flexibility and strength.
Resists "cold water leaks" thanks to advanced EPDM tube and cover that stay soft and pliable, even under adverse operating conditions.
Reduces water loss from water permeating the hose wall and cover, a distinct advantage over silicone.
Exceeds SAE 20R1 Type EC (Class D-1 Tube, and cover, Standard Wall).
Engineered to resist electrochemical degradation – the leading cause of hose failure.
Cover marked in one-inch increments to facilitate approximate cut lengths. Allows custom-fit installations.
Temperature rating: –40°C to +125°C.
Packaging: 3 ft (0.91M) lengths.
CAUTION: Do not use for fuel or oil transfer applications.
Description
Straight 2-Ply Greenstripe Coolant Hose

Part Number
ID
Working Press.
Inches
mm
psi
24212
3/4
19
100
24214
7/8
22
100
24216
1
25.4
100
24218
1 1/8
30
100
24220
1 1/4
32
100
24222
1 3/8
34
100
24224
1 1/2
38
100
24226
1 5/8
40
85
24228
1 3/4
44
75
24230
1 7/8
45
75
24232
2
51
60
24234
2 1/8
54
60
24236
2 1/4
57
60
24238
2 3/8
60
60
24240
2 1/2
63
60
24242
2 5/8
66
60
24244
2 3/4
70
60
24246
2 7/8
71
55
24248
3
76
25
24250
3 1/8
81
25
24252
3 1/4
83
20
24256
3 1/2
89
18
24260
3 3/4
95
18
24264
4
102
12
24272
4 1/2
114
12