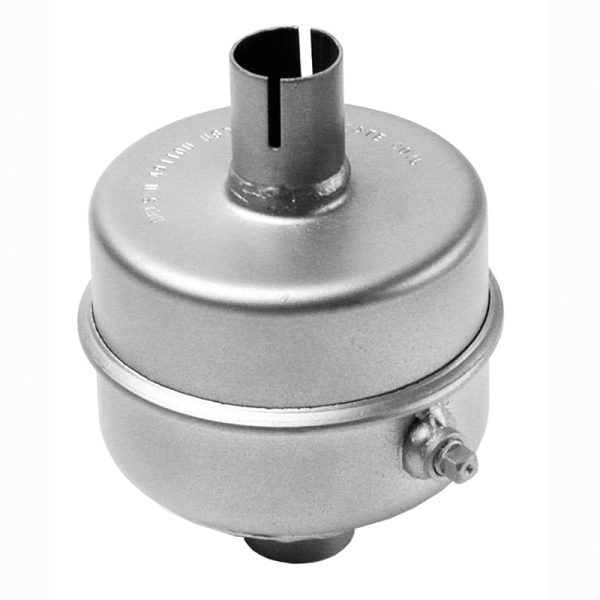 Spark Arrestors – USA Design
Designed for universal application with a minimum of restriction of the engine. They work well as add-ons units exisitng exhaust systems. Their lightweight and small size reduce stress and vibration to the rest of the exhaust system.
Typical applications include logging and construction equipment, agricultural machinery, off-road trucks, airport equipment, forestry and military vehicles.
All arrestors exceed U.S. Forestry requirements, and are qualified and tested for vertical and horizontal installations under the U.S. Forestry Service Standard 5100-1c.
All inlets are slotted tube connections. Outlets are OD tubing.
CFM rating is based on a pressure drop of 1PSI.
Description
Spark Arrestors – USA Design

PART No.
ID
OD
BODY DIAMETER
BODY LENGTH
OVERALL LENGTH
INLET LENGTH
CFM RATING
49110U
27mm
1″
32mm
1 1/4″
108mm
4 1/4″
81mm
3 1/5″
150mm
6″
33mm
1 1/3″
80
49115U
38mm
1 1/2″
38mm
1 1/2″
108mm
4 1/4″
79mm
3 1/9″
150mm
6 "
36mm
1 2/5″
165
49120B
51mm
2″
51mm
2″
143mm
5 5/8″
163mm
6 2/5″
279mm
11″
51mm
2″
295
49125A
64mm
2 1/2″
67mm
2 5/8″
143mm
5 5/8″
218mm
8 3/5″
325mm
12 4/5″
51mm
2″
450
49130A
76mm
3″
80mm
3 1/8″
168mm
6 5/8″
259mm
10 1/5″
378mm
15″
64mm
2 1/2″
660
49135A
89mm
3 1/2″
92mm
3 5/8″
194mm
7 5/8″
305mm
12″
447mm
17 3/5″
76mm
3″
900
49140A
102mm
4″
105mm
4 1/8″
216mm
8 1/2″
371mm
14 3/5″
538mm
21 1/5″
86mm
3 2/5″
1180
49150A
127mm
5″
130mm
5 1/8″
244mm
9 5/8″
406mm
16″
610mm
24″
102mm
4″
1840
49160A
152mm
6″
156mm
6 1/8″
308mm
12 1/8″
559mm
22″
686mm
27″
51mm
2″
2650