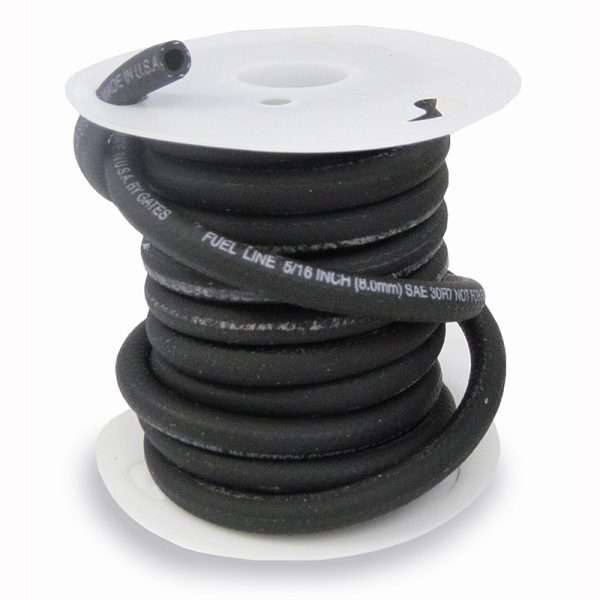 Safety Stripe II® Fuel Line / PCV / Evaporative Emission Control Hose
Multi-purpose hose for use on fuel lines, PCV and EEC systems, and for fuel return hose connections on diesel fuel injection systems. Approved for use with leaded and unleaded gasoline, diesel and gasoline blends of ethanol, methanol and ethers (up to the legal limits allowed by the EPA).
Reinforced construction.
Nitrile tube.
Modified nitrile cover.
Oil resistant cover resists the effects of high heat and ozone found in engine compartments.
Performs to SAE 30R6 and 30R7.
Vacuum rating of 24 In./Hg for sizes less than 1/2" (13mm) I.D., and 10 In./Hg for sizes 1/2" (13mm) to 3⁄4" (19mm) I.D. at ambient temperatures. Packaging: See Table.
Temperature rating: -40°C to 125°C
Packaging: 25ft (7.6m) reels or cartons, 250ft (76.2m) reels
Use Multi-Port Injection (MPI) hose for fuel injection applications.
Intended for use with fuels where MTBE concentrations are no greater than 15% by volume.
WARNING: Do not use for pressure lines on fuel injected engines or for cooling system applications.
Description
Safety Stripe II Fuel Line / PCV / Evaporative Emission Control Hose

Part Number
Part Number
Part Number
ID
Working Presssure
Clamshell
25 Feet
250 Feet
Inches
mm
psi
27000
1/8
3.2
50
27001
3/16
4.8
50
27027
27002
27068
1/4
6.3
50
27028
27003
27069
5/16
8
50
27029
27004
27070
3/8
9.5
50
27005
27071
7/16
11.1
35
27006
1/2
12.7
35
27008
5/8
15.9
35
27010
3/4
19
35