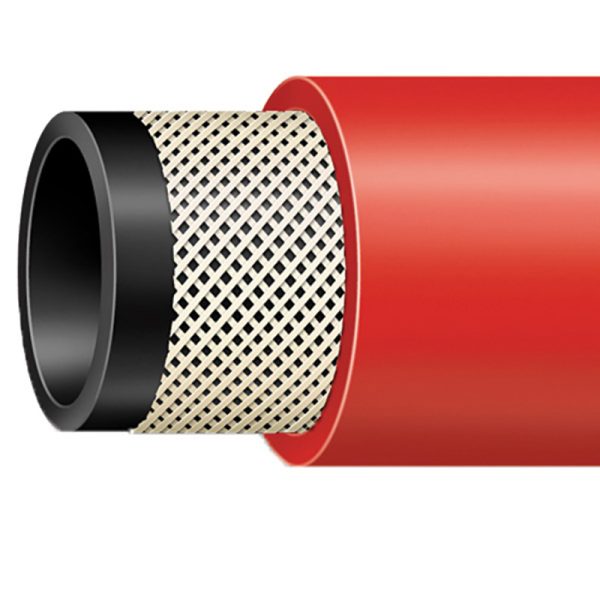 Premoflex® Hose
Premo Flex® is the perfect choice for multiple applications requiring a highly flexible, cost-effective hose with maximum resistance to petroleum oils, kerosene, and fuel oil (to 49°C), and lubricating oils (to 100°C). Premo Flex®can be used for transferring petrol or diesel fuels. It is also suitable for air and water applications, offers excellent weather and ozone resistance, and is nonconductive at 1000 volts D.C.
Temperature Range:-40°C to +100°C continuous service.
Construction:
Tube: Type C (Nitrile). Black.
Reinforcement: Synthetic, high tensile textile cord. Cover: Type C2 (Modified Nitrile). Red.
Couplings: Gates GLX.
Standards:
Tube: RMA (Class A) High oil resistance.
Cover: RMA (Class B) Medium oil resistance.Mil-H-2815G Section 3.12.2 off-gassing for breathing applications such as supplied air respirators, 3/16" through 3/8", 3/4" and 1" I.D's. Nonconductive at 1000 volts D.C. Meets electrical resistance of one mega ohm per inch when subjected to 1000 volts D.C.
Storage and use may adversely affect electrical properties.
Description
Premo Flex Hose

Part
Number
Nominal ID
Nominal
OD
Maximum
Suction
Minimum
Bend
Meters
Per Kg
Standard
Pack
Inches
mm
Inches
mm
psi
mpa
Inches
Hg
mm
Hg
Inches
mm
Kg
Meters
32050010
3/16
4.8
0.45
11.2
250
1.72
30.0
762
2.0
51
0.10
190
32050015
1/4
6.4
0.50
12.7
250
1.72
30.0
762
2.0
51
0.16
183
32050020
5/16
7.9
0.56
14.2
250
1.72
30.0
762
2.0
51
0.15
183
32050025
3/8
9.5
0.66
16.8
250
1.72
30.0
762
3.0
76
0.25
183
32050030
1/2
12.7
0.85
21.6
250
1.72
25.0
635
4.0
102
0.36
183
32050040
3/4
19.1
1.15
29.2
250
1.72
20.0
508
5.0
127
0.60
183
32050046
1
25.4
1.47
37.3
250
1.72
10.0
254
7.9
203
0.86
107
32050049
1 1/4
31.8
1.75
44.5
250
1.72
10.0
254
10.0
254
1.07
91
32050055
1 1/2
38.1
2.00
50.8
250
1.72
10.0
254
12.0
305
1.27
76
32192901
3/16
4.8
0.43
10.9
500
3.45
30.0
762
3.0
76
0.10
191
32050016
1/4
6.4
0.57
14.5
315
2.17
30.0
762
2.0
51
0.18
183*
32050026
3/8
9.5
0.73
18.5
315
2.17
30.0
762
3.0
76
0.27
183*
32050031
1/2
12.7
0.88
22.4
315
2.17
25.0
635
4.0
102
0.42
183*
2050036
5/8
15.9
0.98
24.9
315
2.17
20.0
508
5.0
127
0.39
183
2050041
3/4
19.1
1.19
30.2
315
2.17
20.0
508
5.0
127
0.58
183

Industrial Hose Catalogue