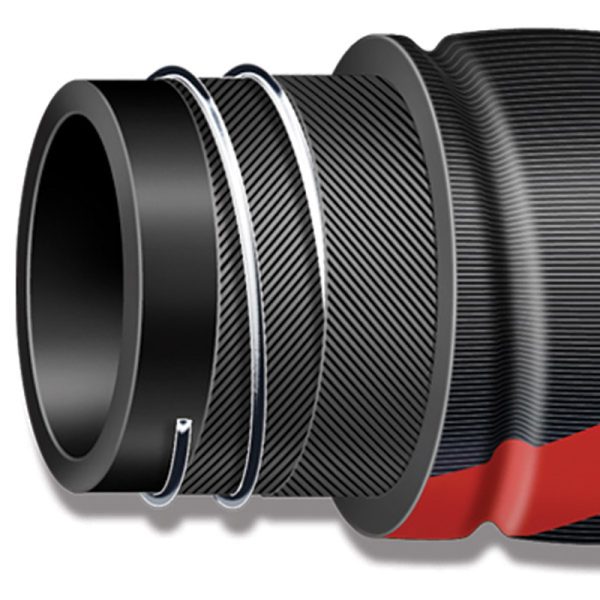 Marine Master© Plus™ Wet Exhaust
The corrugated Marine Master® PlusTM Wet Exhaust exceeds SAE J20R2, SAE J20R5 and SAE J2006. It is a highly flexible hose ideal for use in marine wet exhaust and general purpose applications where tight bends are required. It is also suitable for coolant lines.
Temperature Range: -40°C to +100°C continuous service.
Construction:
Tube: Type C (Nitrile). Black. Oil and heat resistant.
Reinforcement: Synthetic fabric with built-in wire.
Cover: Type A (Neoprene). Black with red spiral stripe.
Oil and heat resistant.
Standards:
Meets requirements of SAE J20R2, SAE J20R5, and SAE J2006.
Tube: ARPM (Class B) Medium oil resistance.
Cover: ARPM (Class C) Limited oil resistance.
Description
Marine Master Plus Wet Exhaust

Part
Number
Nominal ID
Nominal
OD
Maximum Working
Suction
Minimum Bend
Radius
Kilograms
Per Meter
Standard
Pack
Inches
mm
Inches
mm
psi
mpa
Inches
Hg
mm
Hg
Inches
mm
Kg
Meters
4684-1540
1
25.4
1.44
36.6
100
0.69
25.0
635
3.0
76
0.75
3
4684-1545
1 1/8
28.6
1.56
39.6
100
0.69
25.0
635
4.0
102
0.82
3
4684-1551
1 1/4
31.8
1.69
42.9
100
0.69
25.0
635
4.0
102
0.92
3
4684-1556
1 3/8
34.9
1.81
46.0
85
0.59
25.0
635
4.0
102
0.98
3
4684-1561
1 1/2
38.1
1.94
49.3
85
0.59
25.0
635
4.0
102
1.05
3
4684-1601
1 5/8
41.3
2.06
52.3
75
0.52
20.0
508
5.0
127
1.12
3
4684-1611
1 3/4
44.5
2.19
55.6
75
0.52
20.0
508
5.0
127
1.18
3
4684-1651
1 7/8
47.6
2.31
58.7
60
0.41
20.0
508
5.0
127
1.25
3
4684-1660
2
50.8
2.44
62.0
60
0.41
20.0
508
5.0
127
1.31
3
4684-1670
2 1/8
54.0
2.56
65.0
55
0.38
20.0
508
6.0
152
1.38
3
4684-1680
2 1/4
57.2
2.69
68.3
55
0.38
20.0
508
6.0
152
1.38
3
4684-1690
2 3/8
60.3
2.81
71.4
50
0.34
20.0
508
7.0
178
1.54
3
4684-1700
2 1/2
63.5
2.94
74.7
50
0.34
20.0
508
7.0
178
1.61
3
4684-1711
2 5/8
66.7
3.06
77.7
40
0.28
15.0
381
9.0
229
1.67
3
4684-1720
2 3/4
69.9
3.19
81.0
40
0.28
15.0
381
10.0
254
1.74
3
4684-1730
2 7/8
73.0
3.31
84.1
40
0.28
15.0
381
11.0
279
1.80
3
4684-1740
3
76.2
3.44
87.4
40
0.28
15.0
381
12.0
305
1.87
3
4684-1750
3 1/2
88.9
4.06
103.1
35
0.24
15.0
381
17.0
432
2.17
3
4684-1760
4
101.6
4.44
112.8
30
0.21
10.0
254
24.0
610
2.43
3
4684-1764
4 1/2
114.3
4.94
125.5
25
0.17
5.0
127
27.0
686
2.76
3
4684-1766
5
127.0
5.44
138.2
15
0.10
5.0
127
30.0
702
3.02
3
4684-1722
6
152.4
6.46
164.1
15
0.10
5.0
127
36.0
914
3.61
3

Industrial Hose Catalogue