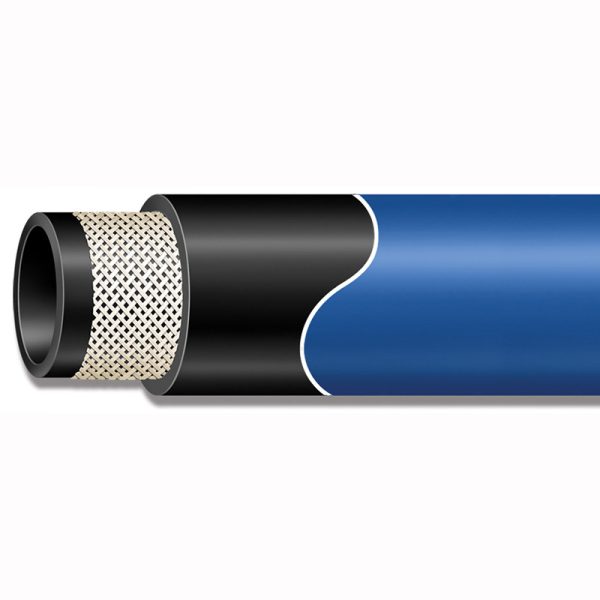 Lock On Hose LOL Plus
When matched with push-lock style couplings, LOL Plus hose is an outstanding performer for a wide range of low pressure transfer applications including petroleum-base hydraulic oils, water, glycol antifreeze solutions, hot lubricating oils and air. Gates LOL Plus is designed to accommodate lock-on fittings. When pressurised, the lock-on hose firmly grips the push-on fitting to establish a tight, permanent, positive seal. Lock-on hose eliminates the need for ferrules or clamps in the fabrication of hose assemblies and facilitates fast, effective assembly, installation, and/or repair in the field.
NOTE: Lock-on hose and couplings are not recommended for pressure surge applications or critical applications such as permanent piping in residential or commercial buildings. Not recommended for petrol or diesel fuel applications.
Construction:
Tube: Type C (Nitrile). Black. RMA (Class A) high oil resistance.
Reinforcement: Braided, high tensile synthetic textile cord.
Cover: Type C2 (Modified Nitrile). Blue, Red, Yellow, Green, or Gray. Type A (Neoprene) Black.
Couplings: Gates GLX, Gates Lock-on Couplings (Note: Do not use clamps with Lock-On fittings or clamp over beaded nipple).
Standards:
Tube: RMA (Class A) High oil resistance.
Cover: RMA (Class A) High oil resistance. Flame-resistant.
Description
Lock-On-Hose LOL Plus

Black Cover – FRAS and MSHA Approved
Nominal ID
Nominal OD
Maximum Working Pressure
Suction
Minimum Bend Radius
Kg Per Meter
Standard Pack
Part Number
lnches
mm
lnches
mm
psi
Mpa
ln. Hg
mm Hg
lnches
mm
Kg
Meters
3/16
5.1
0.41
10.4
300
2.07
27.9
711
3.0
76
0.10
300
3284-5159
1/4
6.4
0.47
11.9
300
2.07
27.9
711
3.0
76
0.12
145
3284-5160
5/16
7.9
0.55
14.0
300
2.07
27.9
711
3.0
76
0.15
300
3284-5161
3/8
9.5
0.63
15.9
300
2.07
27.9
711
3.0
76
0.19
91
3284-5162
1/2
12.7
0.77
19.6
300
2.07
27.9
711
5.0
127
0.25
91
3284-5163
5/8
15.9
0.94
23.9
300
2.07
27.9
711
6.0
152
0.30
76
3284-5164
3/4
19.1
1.06
26.9
300
2.07
15.0
381
7.0
178
0.40
68
3284-5165
Blue Cover
3/16
5.1
0.41
10.4
300
2.07
27.9
711
3.0
76
0.10
91*
3284-2510
1/4
6.4
0.47
11.9
300
2.07
27.9
711
3.0
76
0.12
145
3284-2511
3/8
9.5
0.63
15.9
300
2.07
27.9
711
3.0
76
0.19
91
3284-2513
1/2
12.7
0.77
19.6
300
2.07
27.9
711
5.0
127
0.25
91
3284-2515
5/8
15.9
0.94
23.9
300
2.07
27.9
711
6.0
152
0.30
76
3284-2517
3/4
19.1
1.06
26.9
300
2.07
15.0
381
7.0
178
0.40
68
3284-2519

Industrial Hose Catalogue