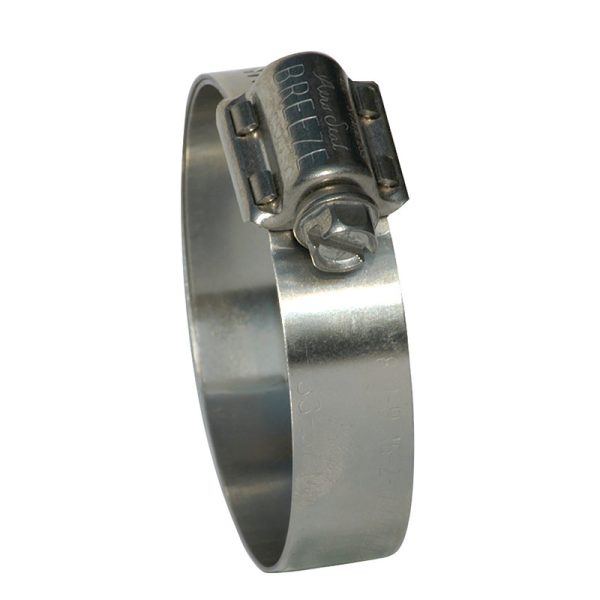 Liner Clamps
For use with silicone hose as it features a protective liner. Advantages of using Breeze Liner Clamps:
General purpose automotive and industrial clamps.
High strength construction. Exceeds all SAE requirements. Use for all standard clamp applications.
The sealing pressure oriented design on Breeze Power-Seal clamps enables it to outperform other general purpose industrial clamps.
Breeze Power-Seal clamps are designed to give higher sealing pressure with lower applied torque. This is especially important in the lower, typical torque ranges achieved when a clamp is installed by hand with a screwdriver or nutdriver.
Description
Liner Clamps

Part Number
Band Width
Clamp Range
BR9406
12.7mm
11-20mm
BR9408
12.7mm
13-23mm
BR9410
12.7mm
14-27mm
BR9412
12.7mm
17-32mm
BR9416
12.7mm
21-38mm
BR9420
12.7mm
21-44mm
BR9424
12.7mm
27-51mm
BR9428
12.7mm
33-57mm
BR9432
12.7mm
40-64mm
BR9436
12.7mm
46-70mm
BR9440
12.7mm
52-76mm
BR9444
12.7mm
59-83mm
BR9448
12.7mm
65-89mm
BR9452
12.7mm
71-95mm
BR9456
12.7mm
78-102mm
BR9460
12.7mm
84-108mm
BR9464
12.7mm
91-114mm
BR9472
12.7mm
105-127mm
BR9480
12.7mm
117-140mm
BR9488
12.7mm
130-152mm
BR9496
12.7mm
143-165mm
BR94104
12.7mm
156-178mm

Liner Clamps & Why they are used