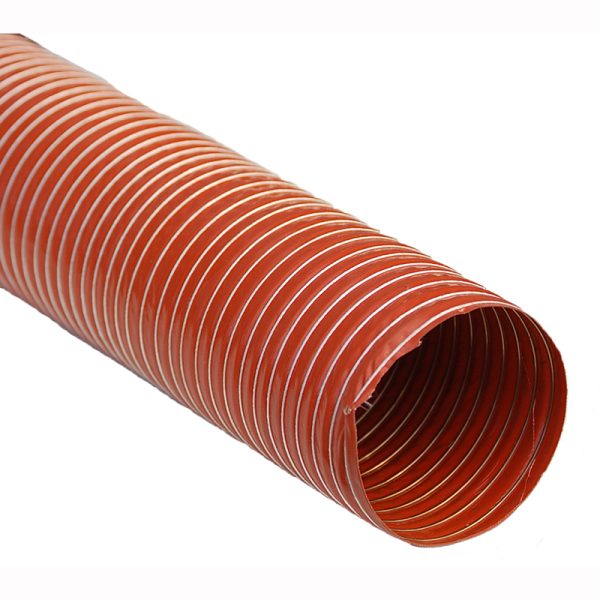 High Heat Ducting 1 Ply 2004 Series Iron Oxide Red
This hose is used extensively in the motorsport industry. Recommended for low pressure handling of higher and lower temperature air, dust or fumes Ideal for heating applications where minimum weight is required, and where air flow and friction requirements are not severe. Good for heater applications. Meets U. S. Military and commercial low temperature flexibility and flame requirements. Not recommended for handling liquids or abrasive materials.
Flexible, chemically treated, helically wound, bronze plated, spring steel wire reinforcement. Silicone-coated woven fiberglass fabric covering. Continuous filament fiberglass cord between coils. Heat-vulcanized for maximum rubber-to-wire bond. Lightweight, non-kinking, easy installation. This product has a central line bend radius of less than one times the diameter of the hose. Meets commercial low temperature flexibility. Resistant to ozone and fungus, alkalis, and water. Completely odour free in hot air service. Temperature range -65°F to +450°F (-54°C to +232°C).
Description
High Heat Ducting 1 Ply 2004 Series Iron Oxide Red

Part Number
ID (mm)
ID (inch)
Ply Rating
Burst Press. (psi)
Std Length (m)
FLX2004 X 100
25mm
1
1 ply
40
3.66
FLX2004 X 125
32mm
1 1/4
1 ply
40
3.66
FLX2004 X 150
38mm
1 1/2
1 ply
30
3.66
FLX2004 X 163
42mm
1 5/8
1 ply
30
3.66
FLX2004 X 175
45mm
1 3/4
1 ply
30
3.66
FLX2004 X 200
51mm
2
1 ply
20
3.66
FLX2004 X 225
57mm
2 1/4
1 ply
20
3.66
FLX2004 X 250
63mm
2 1/2
1 ply
20
3.66
FLX2004 X 275
70mm
2 3/4
1 ply
20
3.66
FLX2004 X 300
76mm
3
1 ply
20
3.66
FLX2004 X 350
89mm
3 1/2
1 ply
18
3.66
FLX2004 X 400
102mm
4
1 ply
15
3.66
FLX2004 X 450
114mm
4 1/2
1 ply
14
3.66
FLX2004 X 500
127mm
5
1 ply
10
3.66
FLX2004 X 550
140mm
5 1/2
1 ply
10
3.66
FLX2004 X 600
152mm
6
1 ply
10
3.66
FLX2004 X 700
178mm
7
1 ply
8
3.66
FLX2004 X 800
203mm
8
1 ply
8
3.66
FLX2004 X 1000
254mm
10
1 ply
6
3.66
FLX2004 X 1200
305mm
12
1 ply
3
3.66