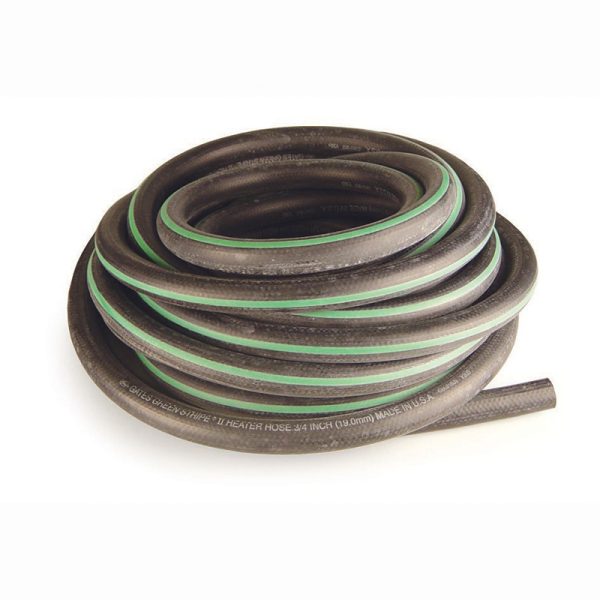 Greenstripe® Heater Hose
Heavy-duty construction assures dependable operation in truck, bus and off-road equipment heater systems.
Green Stripe® construction provides best cost-per-km economics.
Cover is abrasion resistant.
Advanced EPDM tube, cover and reinforcement withstand high under-hood and coolant temperatures. Designed for extended use without cracking or hardening.
Engineered to resist electrochemical degradation – the leading cause of hose failure.
Exceeds SAE 20R1 Type EC, Standard Wall Class D-1.
Reduces water loss from water permeating the hose wall and cover, a distinct advantage over silicone.
Temperature rating: –40°C to +135°C
Packaging: Individually 50ft (15.24m) cartons.
CAUTION: Do not use for fuel or oil transfer applications
Description
Green Stripe Heater Hose

Part Number
Part Number
ID
OD
Length
Working Press. (psi)
50 Feet
91.4 meters
Inches
mm
mm
28439
—
12.7
22.6
15.2
105
28441
28447
16
25.9
15.2
95
28442
—
19
29
15.2
80
28443
—
22.2
32.3
15.2
80
28444
—
25.4
35.3
15.2
75
28445
—
32
41.7
15.2
70