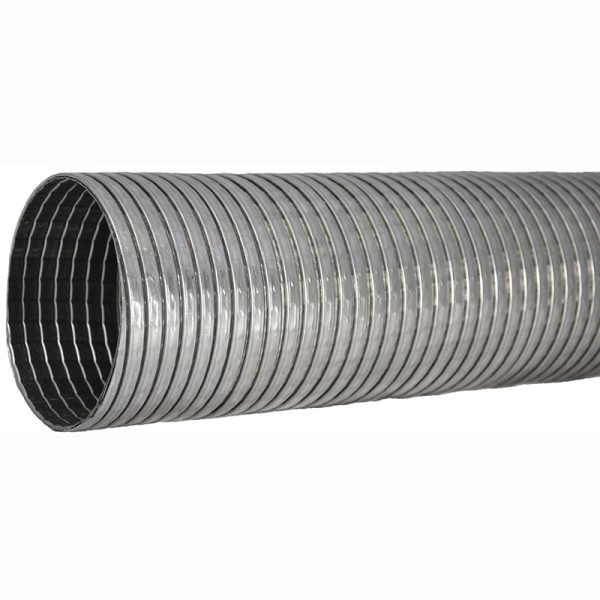 Flex Tube – Precut Length
Available in:
Galvanized.
Stainless Steel.
Please Note:
Flex hose should be installed in a 'partially compressed' state.
Flex lengths shown is partially compressed.
Flex should be installed in a straight position and not used as an elbow.
Larger diameters in alternate lengths are available on request.
Cut lengths contain tack welds and are deburred on both ends.
Cut lengths are nomial and minium lengths.
Specific lengths can be cut on request. Offcuts included in sale.
Galvanised
This type of flex tubing is capable of tempeture of to 600F (315C) before the heat beguins to breakdown the coating of the tube. At this point, the life of the tubing is limited and rust will beguin to form.
Stainless Steel
This type of flex is designed to take high tempetures, such as those found in disel engine applications.
Stainless flex does have a tendency to discolour when exsposed to these high-operating tempetures.
* 25″ (7.62mtr) bulk packs available on request.
Description
FLEXIBLE TUBE – PRE-CUT LENGTH

ID TUBE
LENGTH
GALVANISED STEEL
STAINLESS STEEL
76mm (3″)
300mm (12″)
GSF076X300
SSF076X300
450mm (18″)
GSF076X450
SSF076X450
600mm (24″)
GSF076X600
SSF076X600
750mm (30″)
GSF076X750
SSF076X750
900mm (36″)
GSF076X900
SSF076X900
89mm (3 1/2″)
300mm (12″)
GSF089X300
SSF089X300
450mm (18″)
GSF089X450
SSF089X450
600mm (24″)
GSF089X600
SSF089X600
750mm (30″)
GSF089X750
SSF089X750
900mm (36″)
GSF089X900
SSF089X900
102mm (4″)
300mm (12″)
GSF102X300
SSF102X300
450mm (18″)
GSF102X450
SSF102X450
600mm (24″)
GSF102X600
SSF102X600
750mm (30″)
GSF102X750
SSF102X750
900mm (36″)
GSF102X900
SSF102X900
114mm (4 1/2″)
300mm (12″)
GSF114X300
SSF114X300
450mm (18″)
GSF114X450
SSF114X450
600mm (24″)
GSF114X600
SSF114X600
750mm (30″)
GSF114X750
SSF114X750
900mm (36″)
GSF114X900
SSF114X900
127mm (5 1/2″)
300mm (12″)
GSF127X300
SSF127X300
450mm (18″)
GSF127X450
SSF127X450
600mm (24″)
GSF127X600
SSF127X600
750mm (30″)
GSF127X750
SSF127X750
900mm (36″)
GSF127X900
SSF127X900