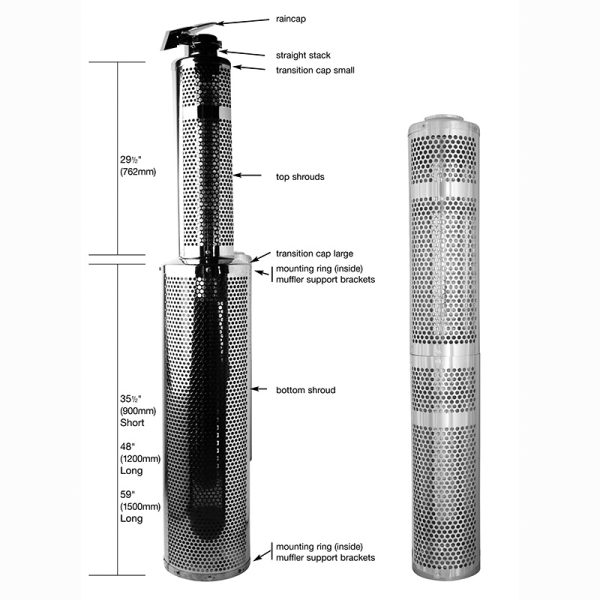 Flame Proof Tanker Kit
* Our Flame Proof Tanker Kits are designed to conform to Australian Standard AS2809.1 and AS2809.2
* A Standard Kit consists of:
Stainless Steel top & bottom shroud
Stainless Steel transition cap (1 large, 1 small)
Bracket mounting rings (2)
Muffler pipe mounting brackets (2)
Chrome plated straight stack
Chrome plated silent raincape

Muffler must be ordered separately if required, refer to our muffler section starting on page 32

* Can be ordered with a deflector instead of a straight stack and raincap
---
PIPE SHROUDS
* Our Pipe Shrouds are supplied a 'kit' form.
* The Short Kit consists of:
one transisition cap
two shrouds
one connect ring
one mounting ring/bracket
one set of pipe support brackets
* The Long Kit consists of:
One transition cap
three shrouds
two connect ring/bracket
three sets of pipe support bracket
* Top Shrouds have an unperforated band near one end. This allows shortening of the shroud by 200mm if required for your application.
* Shrouds listed are supplied without transition caps, mounting rings or support brackets.
– These must be ordered separtly if required
– Shrouds will be assembled for transport if requested.
* Tanker Kit Exhaust Stacks are 1 meter long to allow for extra clearance for raincap to fully open without touching the top transition cap.
– Longer stacks or deflectors can be used if required
* Pipe Shroud Connector Rings joins pipe shroud sections in pipe shroud kits.
* Mufflers to suit these Tanker Kits can be found on page 33
* Full guard mounting rings refer to page 42
* Raincaps refer to page 6.
Description
Flame Proof Tanker kits

EXHAUST SIZE
POLISHED STAINLESS STEEL
76mm
3″
0134076T short bottom shroud
89mm
3 1/2″
0134089T
102mm
4″
0134102T
114mm
4 1/2″
0134114T
127mm
5″
0134127T
127mm
5″
TK127-D (Deflector)
127mm
5″
TK127LV (Volvo) 1500mm
152mm
6″
0134152T
Tanker Kit exhaust Stacks

TUBE OD X LENGTH
CHROME PLATED MILD STEEL
76 x 1000mm
CPS076X1000P
102 x 1000mm
CPS102X1000P
114 x 1000mm
CPS114X1000P
127 x 1000mm
CPS127X1000P
152 x 1000mm
CPS152X1000P
Pipe Shroud Kits – Short

SHORT
SUIT PIPE OD
DIAM. X O/A LENGTH
POLISHED STAINLESS STEEL
76mm
3″
203
x
1540mm
0134TSS076
102mm
4″
203
x
1540mm
0134TSS102
114mm
4 1/2″
229
x
1540mm
0134TSS114
127mm
5″
229
x
1540mm
0134TSS127
Pipe Shroud Kits – Long

LONG
SUIT PIPE OD
DIAM. X O/A LENGTH
POLISHED STAINLESS STEEL
76mm
3″
203
x
2290mm
0134TSL076
102mm
4″
203
x
2290mm
0134TSL102
114mm
4 1/2″
229
x
2290mm
0134TSL114
127mm
5″
229
x
2290mm
0134TSL127
Transition Caps – Small

SMALL
SUIT KIT SIZE
OD X ID
STAINLESS STEEL
76mm
3″
203
x
76mm
0134TCS076
89mm
3 1/2″
203
x
102mm
0134TCS089
102mm
4″
203
x
102mm
0134TCS102
114mm
4 1/2″
229
x
114mm
0134TCS114
127mm
5″
229
x
127mm
0134TCS127
152mm
6″
254
x
152mm
0134TCS152
Transition Caps – Large

LARGE
SUIT KIT SIZE
OD X ID
STAINLESS STEEL
76mm
3″
305
x
203mm
0134TCL076
89mm
3 1/2″
356
x
203mm
0134TCL089
102mm
4″
356
x
203mm
0134TCL102
114mm
4 1/2″
356
x
229mm
0134TCL114
127mm
5″
356
x
229mm
0134TCL127
152mm
6″
381
x
254mm
0134TCL152
Shrouds – Top

TOP
SUIT KIT SIZE
TRANSITION CAP
STAINLESS STEEL
76mm
3″
no t/cap
0134TST076
76mm
3″
with t/cap
0134TST076C
89mm
3 1/2″
no t/cap
0134TST089
102mm
4″
no t/cap
0134TST102
102mm
4″
with t/cap
0134TST102C
114mm
4 1/2″
no t/cap
0134TST114
114mm
4 1/2″
with t/cap
0134TST114C
127mm
5″
no t/cap
0134TST127
127mm
5″
with t/cap
0134TST127C
152mm
6″
no t/cap
0134TST152
152mm
6″
with t/cap
0134TST152C
Shrouds – Bottom

BOTTOM
SUIT KIT SIZE
TRANSITION CAP
STAINLESS STEEL
76mm
3″
no t/cap
0134TSB076
89mm
3 1/2″
no t/cap
0134TSB089
102mm
4″
no t/cap
0134TSB102
102mm
4″
with t/cap + mounting ring
0134TSB102C
114mm
4 1/2″
no t/cap
0134TSB114
114mm
4 1/2″
with t/cap + mounting ring
0134TSB114C
127mm
5″
no t/cap
0134TSB127
127mm
5″
with t/cap + mounting ring
0134TSB127C
127mm
5″
1500mm
TKBS356L
152mm
6″
no t/cap
0134TSB152
152mm
6″
with t/cap + mounting ring
0134TSB152C
Muffler Support Brackets

SUIT KIT SIZE
PIPE x SHROUD DIAMETER
ZINC PLATED
76mm
3″
76 x
305mm
0134GB076E
89mm
3 1/2″
89 x
356mm
0134GB089F
102mm
4″
102 x
356mm
0134GB102F
114mm
4 1/2″
114 x
229mm
0134GB114D
114mm
4 1/2″
114 x
356mm
0134GB114F
127mm
5″
127 x
229mm
0134GB127D
127mm
5″
127 x
356mm
0134GB127F
152mm
6″
152 x
381mm
0134GB152F
Pipe Shroud Connect Rings

SUIT KIT SIZE
GUARD DIAMETER (OD)
ZINC PLATED
76/102mm
3 "/4"
203mm
PSR08
114/127mm
4 1/2 "/5"
229mm
PSR09