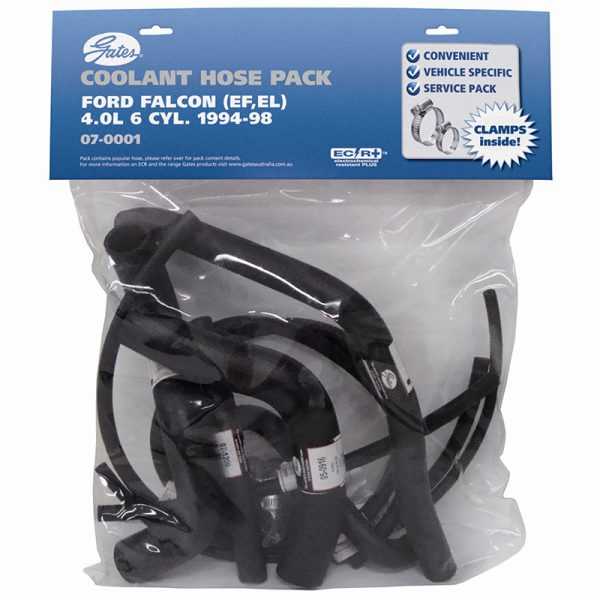 Coolant Hose Pack
Gates applicated pack contains upper and lower radiator hose along with heater and bypass hose. It provides a convenient method of replacing all cooling system hose at the same time.
Save on coolant during cooling system maintenance by replacing all hoses at once.
Once one hose fails on a vehicle there is a high probability that all other hoses will also fail.
Description
Hose Kit Part Number & Application

Part Number
Model
Engine & Year
07-0001
Ford Falcon (EF,EL)
6 cyl 4.0L, 1994 – 1998
07-0002
Holden Commodore
(VS) V6 3.8L, 1995 – 1997 (Non Supercharged)
Toyota Lexcen
V6 3.8L, 1995 – 1997
07-0008
Holden Commodore (VN)
V6 3.8L, 1988 – 1990
07-0012
Holden Commodore (VL)
6 cyl 3.0L RB30, 1986 – 1988 (Non Turbo)
07-0013
Toyota Landcruiser (HZJ70/73/75)
6 cyl 4.2L 1HZ, 1991 – 1999
07-0014
Mitsubishi Pajero (NH,NJ,NK)
V6 3.0L, 1991 – 1997
07-0018
Holden Apollo (JM, JP)
4 cyl 2.2L 5SFE, 1993 – 1997
Toyota Camry (SDV10R)
4 cyl 2.2L 5SFE, 1993 – 1997
07-0019
Holden Commodore (VT,VX,WH)
V6 3.8L Ecotec, 1997 – 2002
07-0020
Ford Falcon (AU)
6 cyl 4.0L, 1998 – 2002
07-0027
Holden Commodore (VT,VX,WH)
V6 3.8L Ecotec, 1997 – 2002
Toyota Lexcen
V6 3.8L, 1993 – 1995 (Non ABS)
07-0030
Ford Falcon (BA,BF) (inc XR6 & XR6T)
6 cyl 4.0L, 2002-2007
07-0031
Holden Commodore (VZ)
V6 3.6L, 2004 – 2006
07-0032
Holden Commodore (VE)
V6 3.6L 24v DOHC EFI, (HB,HN,H7) 08/06 – 07/09
07-0033
Ford Territory (SX/SY)
6 cyl 4.0L 05/2004 – 04/2011
07-0034
Holden Commodore VY
V6 3.8L (L36) 10/2002 – 07/2004