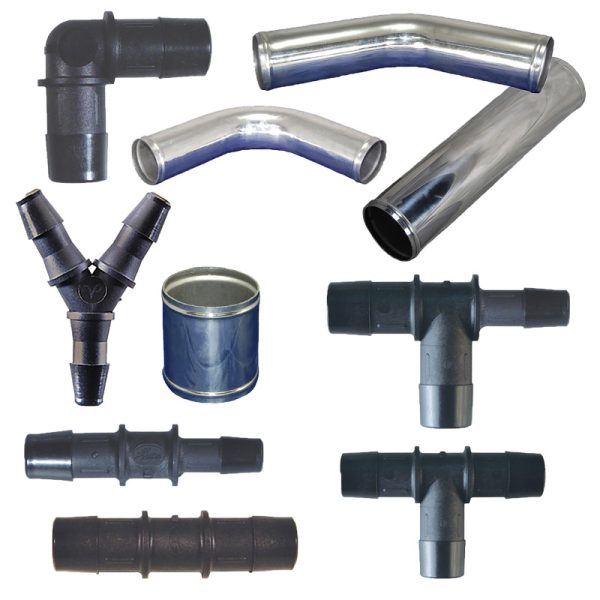 Connectors – Heater Hose and Fuel Line
Unique single barb design provides greater seal ability between single or dual inside diameter hoses.
Using straight, elbow and tee shapes almost any hose configuration can be constructed.
Glass reinforced nylon resists chemicals and temperatures up to +250°C.
Bulkheads assure proper insertion depths.
Anti-rotation device prevents hose twisting. Packaging: 5 per bag.
Description
Straight Connectors

Part Number
OD (Inches)
OD (mm)
28561
3/32
2.4
28562
1/8
3.2
28563
5/32
4
28564
3/16
4.8
28601
1/4
6.3
28600
5/16
8.0
28602
3/8
9.5
28603
1/2
12.7
28604
5/8
15.9
28605
3/4
19
28606
1
25.4
Reducer Connectors

Part Number
OD (Inches)
OD (mm)
28591
3/32 to 1/8
2.4 to 3.2
28592
1/8 to 5/32
3.2 to 4.0
28593
3/16 to 1/4
4.8 to 6.7
28594*
5/16 to 3/8
7.9 to 9.5
28609
3/8 to 1/2
9.5 to 12.7
28610
1/2 to 5/8
12.7 to 15.9
28611
5/8 to 3/4
15.9 to 19.0
28612
3/4 to 1
19.0 to 25.4
Elbow Connectors

Part Number
OD (Inches)
OD (mm)
28571
3/32
2.4
28572
1/8
3.2
28573
5/32
4
28574
3/16
4.8
28621
1/4
6.3
28620
5/16
8
28622
3/8
9.5
28623
1/2
12.7
28624
5/8
15.9
28625
3/4
19
28626
1
25.4
Y Connectors

Part Number
OD (Inches)
OD (mm)
28551
3/32
2.4
28552
1/8
3.2
28554
3/16
4.8
Elbow Connectors

Part Number
OD (Inches)
OD (mm)
28581
3/32
2.4
28582
1/8
3.2
28583
5/32
4
28584
3/16
4.8
28631
1/4
6.3
28630
5/16
8
28632
3/8
9.5
28633
1/2
12.7
28634
5/8
15.9
28635
3/4
19
28638
1
25.4
T-Reducer Connectors

Part Number
OD (Inches)
OD (mm)
OD (Inches)
OD (mm)
OD (Inches)
OD (mm)
28636
5/8
15.9
3/8
9.5
5/8
15.9
28637
3/4
19
3/8
9.5
3/4
19
Note: * not a stock line please call us to enquire