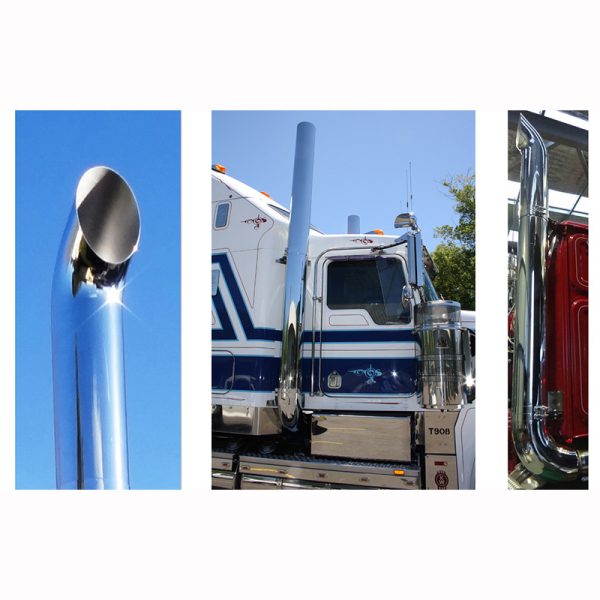 Chrome Monster Stacks
Truck Exhaust runs cleaner and greener in the modern world of environmental awareness and advanced emission control. Heavy vehicle manufacturers use a variety of methods to meet new standards, most commonly Diesel Particulate Filters (DDF's) or Urea Re-agents (adblue).
This poses a whole new challenge for truck drivers, suppliers, and manufacturers alike as they adapt to survive with the new extreme conditions.
With raised acidic conditions and temperatures often exceeding 600C traditional exhaust products could not survive.
Standard chrome can only withstand temperatures of 350C and reacts badly to acidity. Consequently, discoloration and damage often occur within weeks of the fitting.
RP Wallis Wholesale's SPARECO Exhaust Monster Stacks are a superior handcrafted range of American Chrome air inlet pipes and exhaust stacks.

Each have:
An incredibly smooth vertical polish surface (Vertical polishing is in-line with the grain of the tubing and results in superior surface uniformity eliminating any ring polish lines.
3 layers of nickel for improved adhesion, and corrosion resistance, and a controlled layer of high-grade chrome

SPARECO EXHAUST Monster Stack is presented in 2 series

350 Series
Ideal for trucks manufactured prior to the January 2010 ADR80/03 (Euro5) emissions standard with exhaust gas temperatures below 350 deg C
650
Includes a unique range of stacks able to withstand constant exhaust gas temperatures of up to 650 deg C. (Awesome quality chrome not only adds value to your vehicle but promises to go the distance. No discolouration and no blues). The 650 series is specifically designed for trucks built after January 2010 that are running AdBlue or a Diesel Particulate Filter (DPF).
Available in 5, 6, 7 or 8-inch diameter and both Reduced-Inlet and Big-bore (non-reduced) styles. If you want the ultimate seamless look, ask about our Monster Exhaust Setup with unique concealed spool join and reduced-inlet elbow.
Note:
If you have cab-over (flat nose) please advise us before ordering as some of these trucks run on much hotter and may require stainless insert sleeve.
Description
Chrome Monster Stacks

45º MITRE CUT STYLE – 6″ REDUCED TO 5″ – PLAIN INLET
6″ > 5″ STANDARD ECONOMY RANGE
Product Number
Style
Diamiter
Length
Inlet Type
RPW6524P
Mitre Cut 45º Stack
6″ Reduced to 5″
24″ 600mm
Plain Inlet
RPW6536P
Mitre Cut 45º Stack
6″ Reduced to 5″
36″ 900mm
Plain Inlet
RPW6548P
Mitre Cut 45º Stack
6″ Reduced to 5″
48″ 1200mm
Plain Inlet
RPW6560P
Mitre Cut 45º Stack
6″ Reduced to 5″
60″ 1500mm
Plain Inlet
RPW6564P
Mitre Cut 45º Stack
6″ Reduced to 5″
64″ 1630mm
Plain Inlet
RPW6572P
Mitre Cut 45º Stack
6″ Reduced to 5″
72″ 1800mm
Plain Inlet
6″ > 5″ 350C SERIES (4 Star) – AMERICAN CHROME | For NON-EURO [Before 2010] – Up to 350ºC
Product Number
Style
Diamiter
Length
Inlet Type
RPW6530AP350C
Mitre Cut 45º Stack
6 " Reduced to 5″
30″ 750mm
Plain Inlet
RPW6536AP350C
Mitre Cut 45º Stack
6 " Reduced to 5″
36″ 900mm
Plain Inlet
RPW6548AP350C
Mitre Cut 45º Stack
6 " Reduced to 5″
48″ 1200mm
Plain Inlet
RPW6560AP350C
Mitre Cut 45º Stack
6 " Reduced to 5″
60″ 1500mm
Plain Inlet
RPW6564AP350C
Mitre Cut 45º Stack
6 " Reduced to 5″
64″ 1630mm
Plain Inlet
RPW6572AP350C
Mitre Cut 45º Stack
6 " Reduced to 5″
72″ 1800mm
Plain Inlet
6″ > 5″ 650C SERIES (5 Star) – AMERICAN CHROME | For EURO Trucks – Up to 650ºC
Product Number
Style
Diamiter
Length
Inlet Type
RPW6536NBP650C
Mitre Cut 45º Stack
6 " Reduced to 5″
36″ 900mm
Plain Inlet
RPW6548NBP650C
Mitre Cut 45º Stack
6 " Reduced to 5″
48″ 1200mm
Plain Inlet
RPW6560NBP650C
Mitre Cut 45º Stack
6 " Reduced to 5″
60″ 1500mm
Plain Inlet
RPW6564NBP650C
Mitre Cut 45º Stack
6 " Reduced to 5″
64″ 1630mm
Plain Inlet
45º MITRE CUT STYLE – 7″ REDUCED TO 5″ – PLAIN INLET
7″ > 5″ 350C SERIES (4 Star) – AMERICAN CHROME | For NON-EURO [Before 2010] – Up to 350ºC
Product Number
Style
Diamiter
Length
Inlet Type
RPW7530AP350C
Mitre Cut 45º Stack
7 " Reduced to 5″
30″ 750mm
Plain Inlet
RPW7536AP350C
Mitre Cut 45º Stack
7 " Reduced to 5″
36″ 900mm
Plain Inlet
RPW7548AP350C
Mitre Cut 45º Stack
7 " Reduced to 5″
48″ 1200mm
Plain Inlet
RPW7560AP350C
Mitre Cut 45º Stack
7 " Reduced to 5″
60″ 1500mm
Plain Inlet
RPW7572AP350C
Mitre Cut 45º Stack
7 " Reduced to 5″
72″ 1800mm
Plain Inlet
7″ > 5″ 650C SERIES (5 Star) – AMERICAN CHROME | For EURO Trucks – Up to 650°C
Product Number
Style
Diamiter
Length
Inlet Type
RPW7536NBP650C
Mitre Cut 45º Stack
7 " Reduced to 5″
36″ 900mm
Plain Inlet
RPW7548NBP650C
Mitre Cut 45º Stack
7 " Reduced to 5″
48″ 1200mm
Plain Inlet
RPW7560NBP650C
Mitre Cut 45º Stack
7 " Reduced to 5″
60″ 1500mm
Plain Inlet
RPW7564NBP650C
Mitre Cut 45º Stack
7 " Reduced to 5″
64″ 1630mm
Plain Inlet
45º MITRE CUT STYLE – 8″ REDUCED TO 5″ – PLAIN INLET
8″ > 5″ 350C SERIES (4 STAR) – AMERICAN CHROME | FOR NON-EURO [BEFORE 2010] – UP TO 350ºC
Product Number
Style
Diamiter
Length
Inlet Type
RPW8530AP350C
Mitre Cut 45º Stack
8 " Reduced to 5″
30″ 750mm
Plain Inlet
RPW8536AP350C
Mitre Cut 45º Stack
8 " Reduced to 5″
36″ 900mm
Plain Inlet
RPW8548AP350C
Mitre Cut 45º Stack
8 " Reduced to 5″
48″ 1200mm
Plain Inlet
RPW8554AP350C
Mitre Cut 45º Stack
8 " Reduced to 5″
54″ 1350mm
Plain Inlet
RPW8560AP350C
Mitre Cut 45º Stack
8 " Reduced to 5″
60″ 1500mm
Plain Inlet
RPW8572AP350C
Mitre Cut 45º Stack
8 " Reduced to 5″
72″ 1800mm
Plain Inlet
8″ > 5″ 650C SERIES (5 STAR) – AMERICAN CHROME | FOR EURO TRUCKS – UP TO 650ºC
Product Number
Style
Diamiter
Length
Inlet Type
RPW8530NBP650C
Mitre Cut 45º Stack
8 " Reduced to 5″
30″ 750mm
Plain Inlet
RPW8536NBP650C
Mitre Cut 45º Stack
8 " Reduced to 5″
36″ 900mm
Plain Inlet
RPW8548NBP650C
Mitre Cut 45º Stack
8 " Reduced to 5″
48″ 1200mm
Plain Inlet
RPW8554NBP650C
Mitre Cut 45º Stack
8 " Reduced to 5″
54″ 1350mm
Plain Inlet
RPW8560NBP650C
Mitre Cut 45º Stack
8 " Reduced to 5″
60″ 1500mm
Plain Inlet
RPW8564NBP650C
Mitre Cut 45º Stack
8 " Reduced to 5″
72″ 1800mm
Plain Inlet