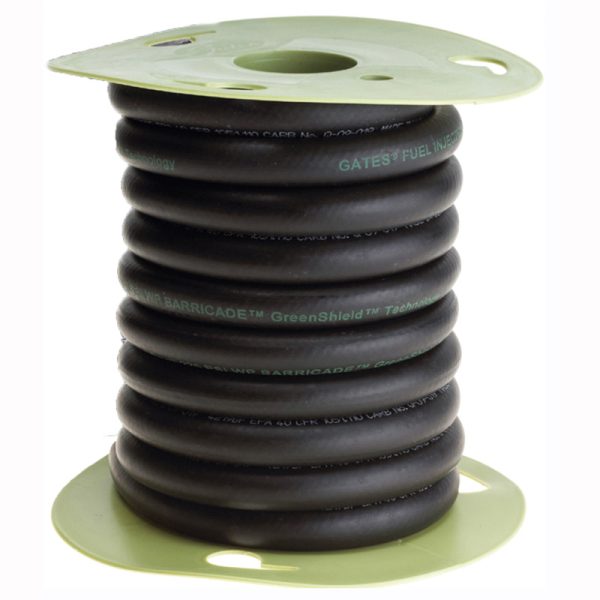 Barricade™ Carburetion Fuel Line Hose
Low-permeation, premium hose for use on carbureted engines, PCV and EEC Systems, and for Fuel Return Hose on fuel injection systems.
Not for use on the pressure-side of fuel injection systems. Approved for use with leaded and unleaded gasoline, diesel, bio-diesel, E-85, methanol, ethanol, and gasohol fuels. Patented five-layer GreenshieldTM barrier technology keeps fuel out of the environment while delivering peak fuel efficiency.
Meets SAE J30R14T1, EPA 40 CFR 1051.110 , and CARB small engine off-road Requirements for low permeation (except for kink resistance)
Textile spiral layer (two spiral) and thermoplastic barrier layer
Oil, heat, ozone and abrasion resistant cover
Recommended for carbureted engines in cars, light trucks, off-road vehicles and small engines
Temperature rating: -40° C to 125° C
Note: Do not submerse in gasoline.
Caution: Do not use on pressure lines on fuel injection systems or cooling system applications. Use BarricadeTM Fuel Injection (4219BF) hose for Multi-Port Injection systems.
Description
Barricade Carburetion Fuel Line Hose

Part Number
2 feet
Part Number
25 feet
Part Number
250 feet
ID (Inches)
ID (mm)
OD (mm)
Working Pressure (psi)
27302*
27312
27321*
3/16
4.8
10.3
50
27303
27313
27323
1/4
6.3
12.7
50
27304
27314
27324
5/16
8
14.3
50
27305
27315
27325
3/8
9.5
15.9
50
27306*
27316
27326
1/2
12.7
19.8
35
Note: * not a stock line please call us to enquire