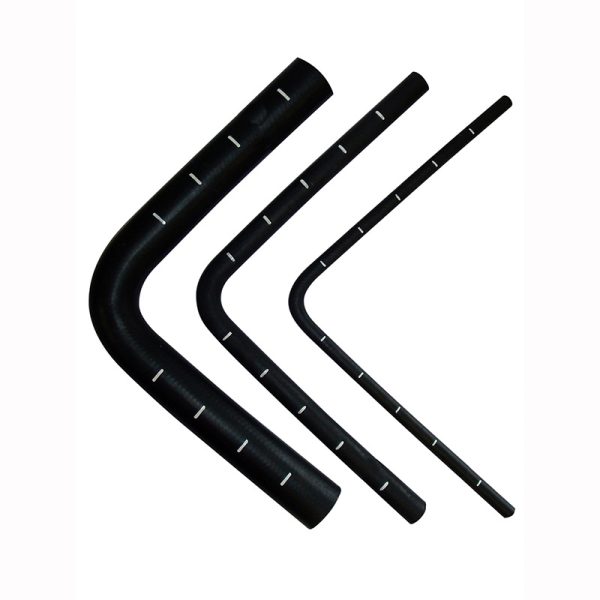 90 Degree Moulded Coolant Hose Australian Program
This universal 90 degree range of coolant hose comes in all the popular ID sizes and is offered in 2 lengths. The shorter length provides a solution for a known or tight fitting situation, whilst the longer length hose is able to cover more applications and can be easily trimmed to make and exact fit.
To aid the precise cutting of the hose all Gates 90° Moulded Coolant Hoses come with uniform increments marked along the length of each arm from the centre of the 90° bend to assist with accurate cutting of the hose if required
Engineered to resist electrochemical degradation – the leading cause of hose failure.
Resists water permeation.
Similar to heater SAE 20R4 Type EC Class D-2.
Temperature rating: -40°C to +135°C
CAUTION: Do not use for fuel or oil transfer applications."
Description
90 Degree Molded Coolant Hose – Australian Program

Part Number
ID
ARM 1 (Centerline)
ARM 2 (Centerline)
Inches
mm
mm
mm
02-0145
1/4″
6.35
102
152
02-0637
1/4″
6.35
102
305
03-0001
1/4″
6.35
300
300
02-0146
5/16″
7.9
102
152
02-0407
5/16″
7.9
102
305
03-0002
5/16″
7.9
300
300
02-0418
3/8″
57
63
152
03-0003
3/8″
9.5
102
300
02-0453
3/8″
9.5
300
152
02-0181
1/2″
12.7
102
305
03-0004
1/2″
12.7
110
110
03-0005
1/2"
12.7
300
300
02-0278
5/8″
15.9
102
152
02-0281
5/8″
15.9
102
305
02-0183
5/8″
15.9
203
457
02-8472
5/8″
15.9
102
1219
03-0006
5/8″
15.9
100
100
03-0007
5/8″
15.9
300
300
02-0284
3/4″
19
102
152
02-0286
3/4″
89
89
457
02-8479
3/4″
19
102
914
03-0008
3/4″
19
125
125
03-0009
3/4″
19
300
300
03-0010
1″
25,4
125
125
03-0011
1″
25,4
300
300
03-0012
1 1/4″
32
150
150
03-0013
1 1/4″
32
300
300
03-0014
1 1/2″
38
150
150
03-0015
1 1/2″
44
300
300
03-0016
1 3/4″
38
180
180
03-0017
2″
50
175
175
03-0018
2″
50
200
200
03-0019
2″
50
300
300
03-0020
2 1/4″
57
170
170
03-0021
2 1/4″
57
310
310